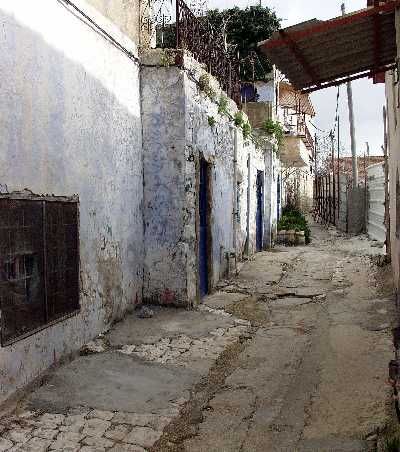 As you can see on the picture above, the little town of Sefat is placed high on a mountain in North Israel.

In the 16th century Sefat became a famous, well known centre of spanish kabbalah. Students from all over the world studied there.

Once some students there got the idea, to great the shabbat in a special way, not just reciting the normal evening prayer as every day.

They went outside on the fields to do explicitly, what the ancient rabbis in the talmud had spoken of: going to great the Shabbat. (Read this story?)
From outside they had a beautiful view over the wide landscape. From there they could observe the sun going down, announcing, that Shabbat comes.

They sung six psalms,
one psalm of each day of the week.
(Psalm 95, 96, 97, 98, 99 and 29)
They composed new songs. One of these we still know, it's called "L'cha Dodi", the composer was Schlomo Alkabez. (For people knowing some Hebrew: the first Hebrew letter of each verse is a letter of his name.) With the last verse, they entered the synagogue to start the service.

Shabbat beginns with Psalm 92, A Song for the Shabbat Day.
According to another tradition
the six psalms were introduced
to wait till everybody was back
from the work in the fields
and to start the service together.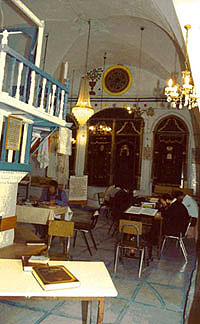 The students from all over the world told their home town communities about this minhag of Sefat and very soon this custom spread all over the world.

But as their home town synagogues didn't have fields in front of the synagogue and weren't situated high on a hill, they just symbolically went out to greet the shabbat by turning around to the door for the last verse to greet Shabbat, as if it would enter the room like a bride in a wedding ceremony.

The Talmud says (Shabbat 119a):
Rabbi Hanina robed himself and stood at sunset of Sabbath eve and excaimed: 'Come and let us go forth to welcome the queen Sabbath'. (in Hebrew: Bo-u wenetze likrat shabbat haMalka.)

Rabbi Jannai donned his robes, on Sabbath eve and excaimed: 'Come, O bride, Come, O Bride!' (Boi Kallah, boi Kallah).

back